itel Maximizes Operations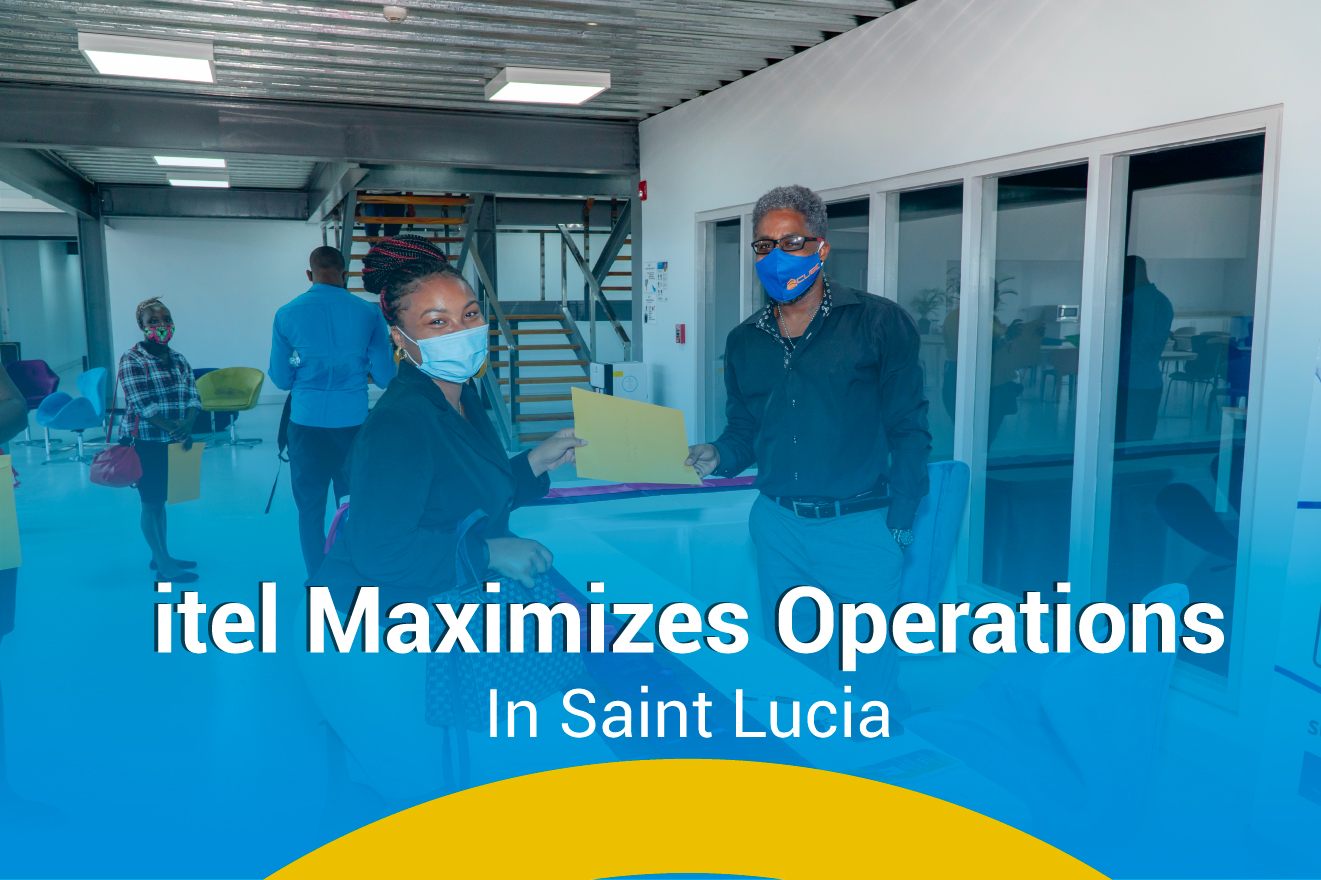 January 27, 2021
The Voice St. Lucia | January 22, 2021
THE Caribbean's largest homegrown contact centre, itelbpo, has reported productive business since operations begun here, last July.
At a virtual briefing, Itelbpo Saint Lucia – The Inside Track, which was held this week via Zoom conferencing, Yoni Epstein, Founding Chairman and CEO, reported that the company recorded 'tremendous successes'.
While detailing the company's journey and continued growth from concept to construction and launch, he credited the input of Invest Saint Lucia (ISL) and by extension government authorities for helping to bring this business project to fruition.
"Invest Saint Lucia has been a big part of the success of this making so far , as well as the St Lucian government who has welcomed us with open arms and who have seen the growth and the success we've had in the first six months there," said Epstein.
He added that Prime Minister Allen Chastanet had endorsed the project, as it "really provides opportunity for growth in the south."
Epstein said it was good to see the transformation of this business enterprise into reality "as an economic growth generator for the country of St Lucia."
Itelbpo launched operations in Saint Lucia, last July, with 30 full-time staff members. Over the last month, the office has grown to an impressive 450 onsite employees. With a projection target of 750 employees by Q1 2021. Construction on an additional 20,000 square foot facility is now underway.
Founded in 2012 in Montego Bay, Jamaica, itelbpo is now a global business, and the region's largest home- grown business process outsourcer offering end-to-end customer experience management solutions.
With a total of five facilities in four countries and a robust network of home-based experts, itelbpo officials say it operates a "balanced delivery model that offers agile and customized voice, non-voice and digitally enabled solutions that can adapt to the demands of an ever-changing marketplace."
This week, the company's CEO disclosed that despite the covid-19 implications that swept through globally, itelbpo managed to continue with its construction works to get the business project up and running.
He acknowledged ISL's competence in transforming a factory shell into "a world-class building (facility)." Epstein said that after making initial contact with Invest Saint Lucia and following the signing of an MOU in 2019, the company got the go-ahead to commence its operations on island.
Speaking commendably about the operations, Epstein stated that, "St Lucia has done a phenomenal job, like many other countries …including Jamaica (hometown), where they have done a great job in containing the spread of the virus and they've been able to protect lives and livelihoods, while keeping the economic generators going within the country."
He listed some of the company's initial successes, as; lower attrition, lower absenteeism and "the business has been able to operate very efficiently even as we continue to grow within the country. This has made our team members happy, it has made our clients happy and has made our businesses in St Lucia, successful thus far."
While disclosing that a second facility was due for completion, later this month, Epstein acknowledged that support from the government of Saint Lucia, ISL, and itelbpo's strong team management has enabled this business venture to be possible.
What's next for St Lucia?
The itelbpo boss explained, "We've already began discussion on the potential of a third facility in our free-zone …we like the south, we're seeing great successes out of the south and we also like the fact of having a 'campus like' feeling for our team members where everybody can be held in one space rather than being discombobulated across several facilities."
He said the company's goal for this year is to increase the workforce by 1,000 to 1,200 persons. "We feel confident that we can achieve these goals. We feel confident about the business growth in the south, confident about the young labour pool in St Lucia," Epstein asserted.
Acknowledging the economic input that the project has had in the southern town, Kieran Long, SVP Operations, SLU at itelbpo declared: "We are the talk of the town…there's a lot of activity going on, lots of equipment going on, and there's a lot of energy and interest about what itelbo does."
He said the project has garnered lots of interest not just at the centre, but people routinely inquire about the operations at the job site.
Long said he was quite impressed with the young employees' credentials and also their competence in utilizing technology apparatus. In addition, he was pleased with the "quality of language, which is a lot more natural" in comparison to other regional territories and this bodes well for the company's clientele.
He noted that employees possessed transferable skills and had a good knack for the customer service aspect of business.
"People feel they are part of something going on and that's really exciting," declared Long. He adds that there is prospects for career growth for young people in the industry.
He also spoke of the employees' competence in technology, stating that in the height of the covid-19 pandemic some staffers had to adapt to working from home. He said at least more than 80% of employees had access to connectivity on the internet.
Speaking on the company's global clientele, Epstein disclosed that, "Itelbpo has grown by acquiring new clients", continuing to work with old clients and also acquiring different businesses.
He asserted that with a network of business operations currently spread across six different countries, another priority for the company is to have at least 5,000 workers employed within the next five (5) years, as the itelbpo team "continues to surpass goals."
View more
More from the News section