Ramping Up for the Retail Peak: What's Changed in a Post-Pandemic World

April 27, 2023
The holidays will be here before you know it and companies are already ramping up for the online shopping peak. This is when retailers are looking for the right peak partner/vendor who can help plan, build, and deliver a shopping experience that will outmatch the competition. The stakes have never been higher. Cost-conscious consumers will be on the lookout for the best deals and the best customer service. Brands that bring those two together may stave off the consumer 'drifting' that happened during the pandemic and may even surpass 2020's record eCommerce sales. While many retailers are awaiting the return to 'pre-pandemic' shopping patterns, perhaps it's time to acknowledge that the game has changed, and so should your seasonal ramp.
Here's what's different…
Seasonal Ramps are Earlier than Ever
Years of supply chain woes have accustomed people to shopping early to avoid out-of-stock notices and ensure on-time delivery. With supply chain backlogs mostly resolved, this time, it's inflation, and consumers' desire to save money, that's driving this earlier purchasing pattern. According to 2022's FedEx Post Peak Report, almost a third of customers started their holiday shopping early, mostly to take advantage of pre-holiday deals. Young Millennials and Gen Z, who often have less discretionary income and tighter budgets, make up half of those early shoppers. Many begin shopping before Thanksgiving and 20% before Halloween, as two thirds of online shoppers look for ways to spread out their gift shopping budget over the year.
Peak Days Have Shifted to Favor Cyber Monday
Retailers may want to shift their attention to Cyber Monday, which in 2022, outpaced both Black Friday and Thanksgiving sales revenues, with over US$11.3 billion in eCommerce sales. Even with the return to in-store shopping, 2022 still showed a favorable 4%-5% eCommerce growth, as recent customer surveys show that consumer behaviors seem to have permanently shifted towards a preference for digital shopping - 40% of consumers still plan to do much of their holiday shopping online, up 10 percentage points from before the pandemic in 2019. Customers are also availing themselves of 'buy online pick up in store' (BOPIS) for last-minute gifts, which last year, accounted for 35% of all online orders the Friday before the December holidays.
Omnichannel Flexibility a Must
Omnichannel customer support is no longer nice-to-have but necessary as 'hybrid' shopping takes off. According to Google, two-thirds of U.S. holiday shoppers now use three or more channels to make purchases and they want the flexibility to choose how they shop and how they interact with brands. 42% like the 50/50 combination of both online and in-store shopping as they feel it makes holiday purchases much easier. Another survey showed that eight out of ten plan to shop on mobile apps this holiday season and 41% of consumers say they're likely to make a purchase via a retailer's social media, showing that diversity of choice (and customer support channel) is the best way to please consumers.
A Shift from Outsourcing to Right-Sourcing
As ramps come earlier and require more support, retailers are not only looking for a CX outsourcer that can help them scale, but the right one that can do it fast, effectively and for a competitive price. Ideally, the right CX partner should be flexible enough to navigate seasonal ramps but also meet the fluctuating needs of year-round CX. More than that, retailers are increasingly looking for outsourcers that can do more than answer customer calls. Whether it's finding the right geos, channels, language requirements, or agent skillsets, or implementing cost-saving automations, artificial intelligence or self-service options, the right CX partner should help innovate, uncover new efficiencies, and identify new areas of opportunity. They should understand a client's needs and concerns, and tailor recommendations based on business objectives.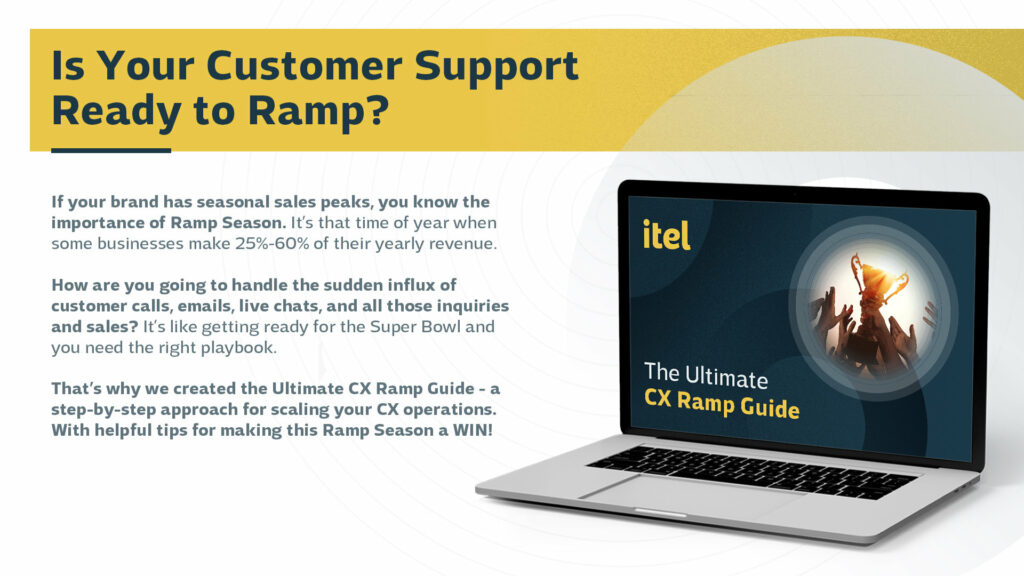 If you're still searching for the ideal peak partner, consider itel. We are the Caribbean's largest homegrown customer experience outsourcer, with 15 locations across 7 countries throughout the nearshore. We can deliver competitive, on-brand CX using the best of technology and human interaction, with the flexibility to scale as needed.
View more
More from the Stories section