COVID-Ready Buildings Feature Modern Environmental Design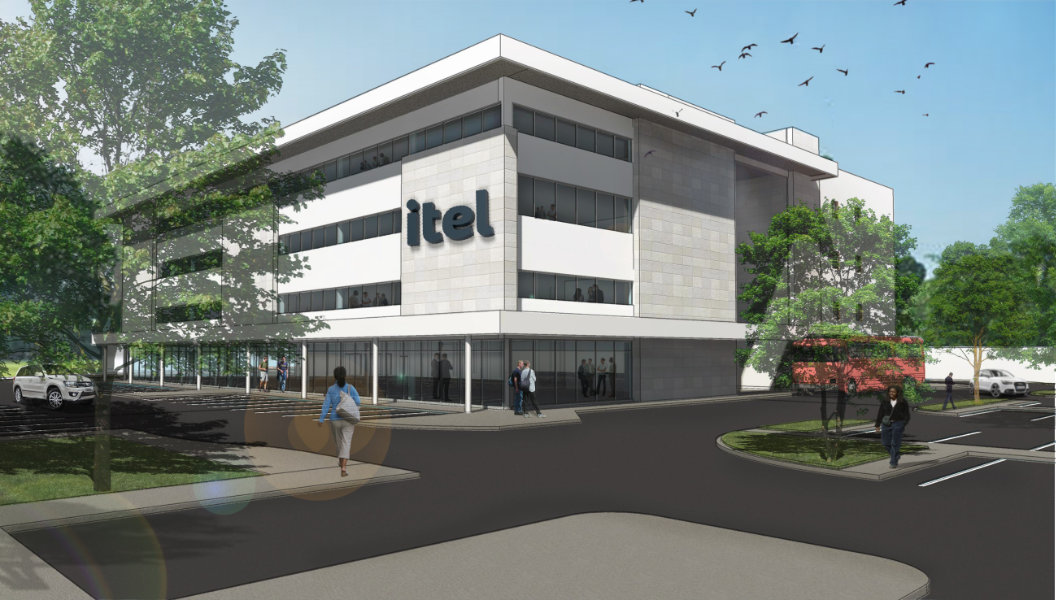 June 28, 2021
Post Updated on May 19, 2022
Modern environmental design blended with COVID-ready features make itel buildings not only safe and functional for employees, but has entirely reimagined the look and feel of today's contact center.
itel's two newest sites, one in Saint Lucia that opened in July 2020, in the Hewanorra Freezone, and itel's latest 'Chalmers' building, a 90, 000 square feet, state-of-the-art facility in Kingston, Jamaica, set to officially launch in late May 2022, were not only designed to meet the rigorous health and safety requirements brought on by the global pandemic, but were specifically designed to elevate and enhance the employee experience.
Instead of the traditional, sterile factory floor setup that contact centers were once known for, itel has come up with a design expression that better reflects a cutting-edge company that is always evolving.
A vision that is taking the conventional contact center to a whole other level.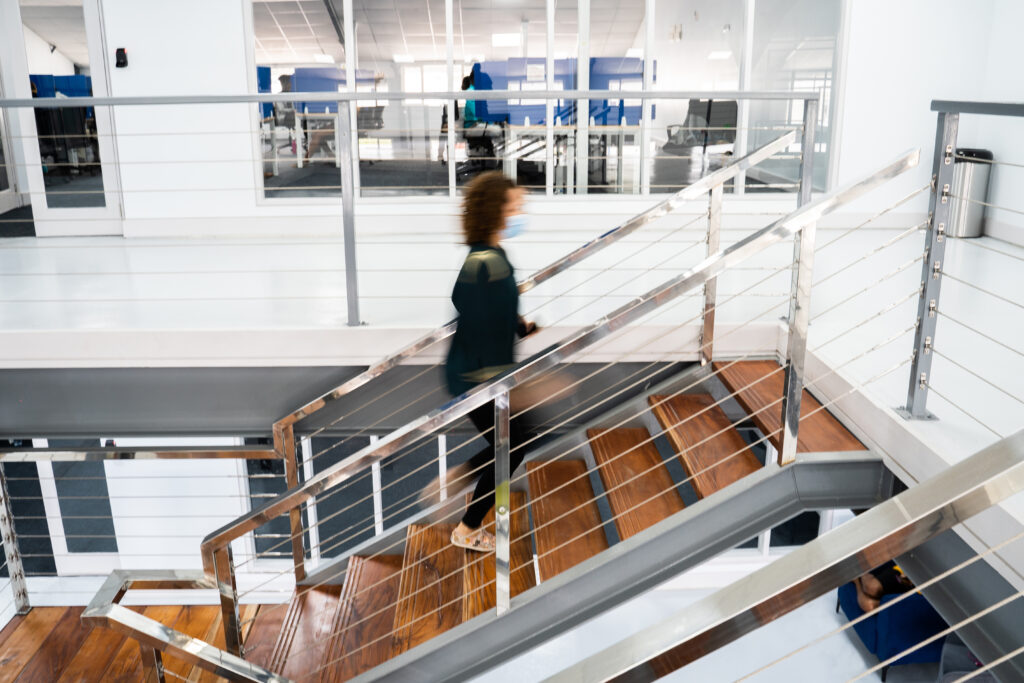 A Design That Blends Modern Spaces with the Natural World
Visitors should expect a treat when they walk into the new Chalmers building. Officially launching on May 25, 2022, employees and guests will be struck by the amount of light and openness from the building's soaring ceilings and towering glass walls. It creates a modern spaciousness, punctuated by stunning lightbox displays, energetic pops of color, botanical walls, and natural, organic elements that blend seamlessly with the tech-inspired décor.
The inspiration was to bring the outdoors inside, and to craft an interior space that harmonized beautifully with the exterior landscape and vibrant culture of the Jamaican people.
In fact, the natural landscape became central to the design of each site.
In Saint Lucia, the island's airy, organic beauty is reflected in the minimalist, modern and sleek design of the itel buildings. Light flows through windows and bounces off shiny metal staircases, while indoor rock gardens bring in a soothing nature-inspired element. The furniture selection was also inspired by the vibrant colors that abound outdoors, with accents of blues and greens, reminiscent of the glittering sea and palm tree leaves.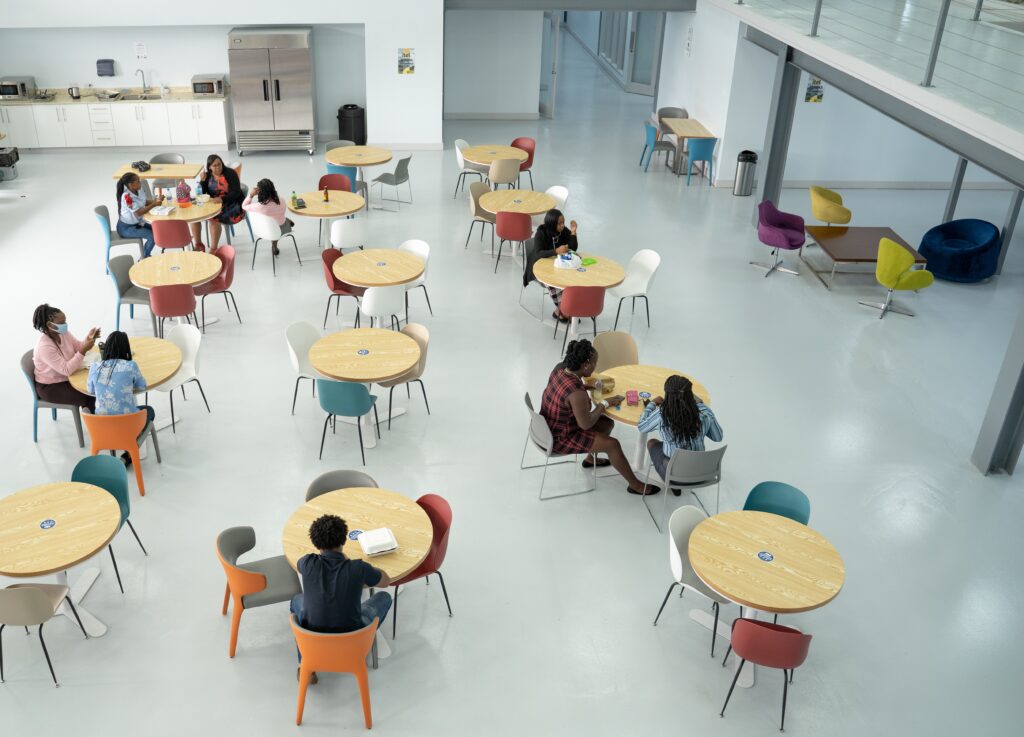 The Design Process: All in The Family
True to itel's core values of Quality, Integrity, Reliability and Family, the design of the new buildings was a family affair.
Philippa Epstein, the mother of founding Chairman and CEO, Yoni Epstein, is the interior designer whose vision translated into some of the building's more daring and innovative features.
"We wanted to create environments that augment the mind," she explains, "to heighten the employee experience with these gorgeous, modern structures where culture and family come together."
The new Chalmers building will feature common areas with brightly colored seating, nature-inspired artwork, organic live-edge wood tables, and glass windows that allow light to stream through.
As Philippa explains, "we wanted to create this feeling that staff are not missing out on the rest of the world when they are inside this building."
Making COVID-Ready Design More Than Functional
The employee experience was crucial in the early design phases. Equally important was the health and safety of our staff.
As Yoni explained in an interview with the Jamaica Observer, "After COVID-19 hit, we went back to the drawing board and redesigned the approach to our new facilities, both in Kingston and Saint Lucia. It was just another opportunity for us to stay ahead of the game."
Though there were inherent challenges in building a new, expanded site in Saint Lucia during a global pandemic, the architectural team ensured that all structures met local government safety standards. While the talented team at Invest Saint Lucia provided the clever idea to sustainably repurpose an old factory shell in the Hewanorra Free Zone to expand the capabilities of itel's Saint Lucia site.
Production floor layouts in both the Kingston and Saint Lucia locations were adapted to comply with social distancing guidelines. Ergonomic, specially designed workspaces allow for safe employee interactions, with 36-inch-high plexiglass partitions recommended by health and government authorities.
"We gave up some production spaces in the process," explains Janecia Welds-Wainwright, Head of Projects. "But, Yoni, our CEO, wanted it to be more spacious, where everyone has their own individual work area that they can personalize."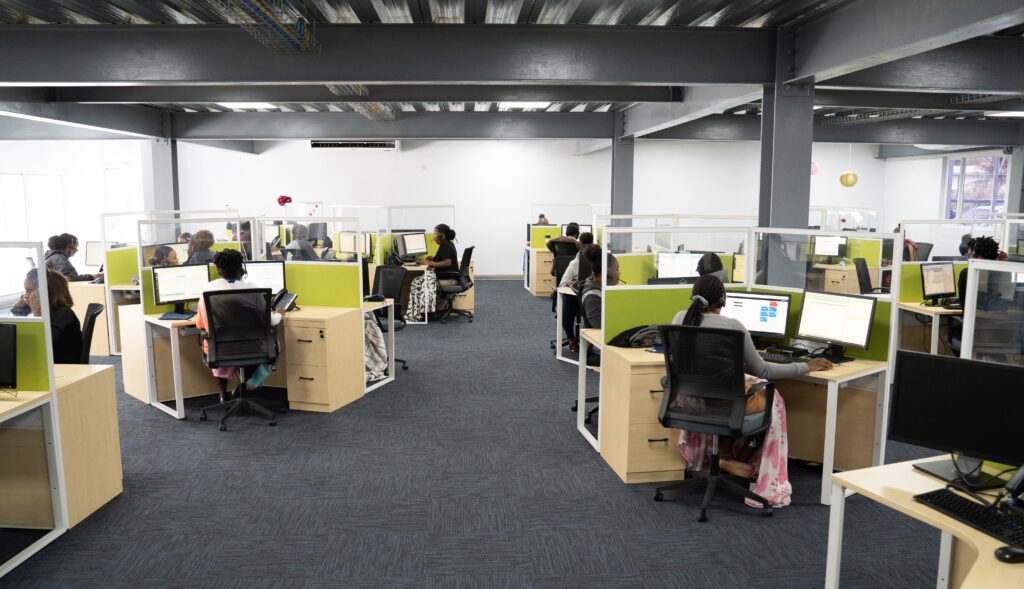 Creating a Culture of Wellness
Other adjustments were made to maximize employee wellness and safety. Walkways were widened and communal areas were redesigned to allow for socially distant traffic flow. HVAC climate control systems were either upgraded, or built, to allow maximum airflow and proper air filtration that complies with international ASHRAE standards for indoor air quality.
Employee mental health was also a big concern during the turbulent global health crisis. In Saint Lucia, we set up an employee Wellness Center and chill space, introduced as a "quiet place, to go and read, or just lounge," Janecia tells us. "Where you can unwind and relax when you're having a rough day."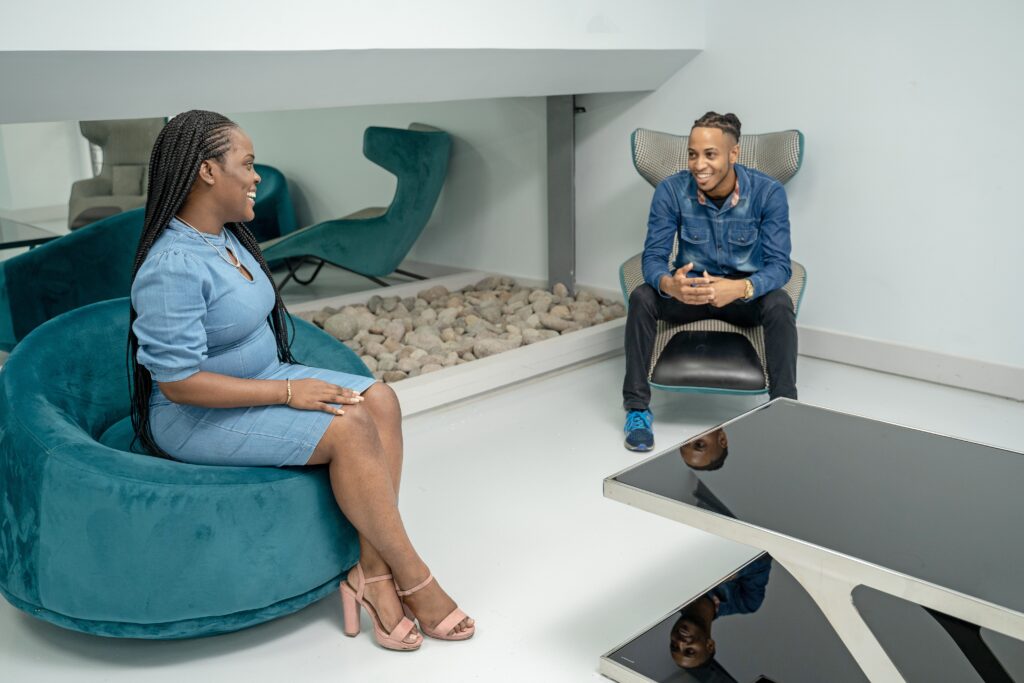 The Chalmers building in Kingston will also offer an indoor gym and a coffee bar where people can grab a peaceful cup of tea when needed.
Fresh Designs Create New Engagement
True to its motto of EX=CX, itel's new, COVID-ready buildings enhance and elevate the employee experience, with a design aesthetic that blends safety and wellness with modern, environmental design and a welcoming feel that is a hallmark of itel's brand.
When asked how itel employees welcomed the fresh look, Janecia was quick to confirm it was a big hit. "Once we launched, we had a lot of positive reactions. A lot of people weren't used to this personalized environment. But once they saw it, many staff wanted to be on-site. In Saint Lucia, employee attendance has been at a record high. People love that building."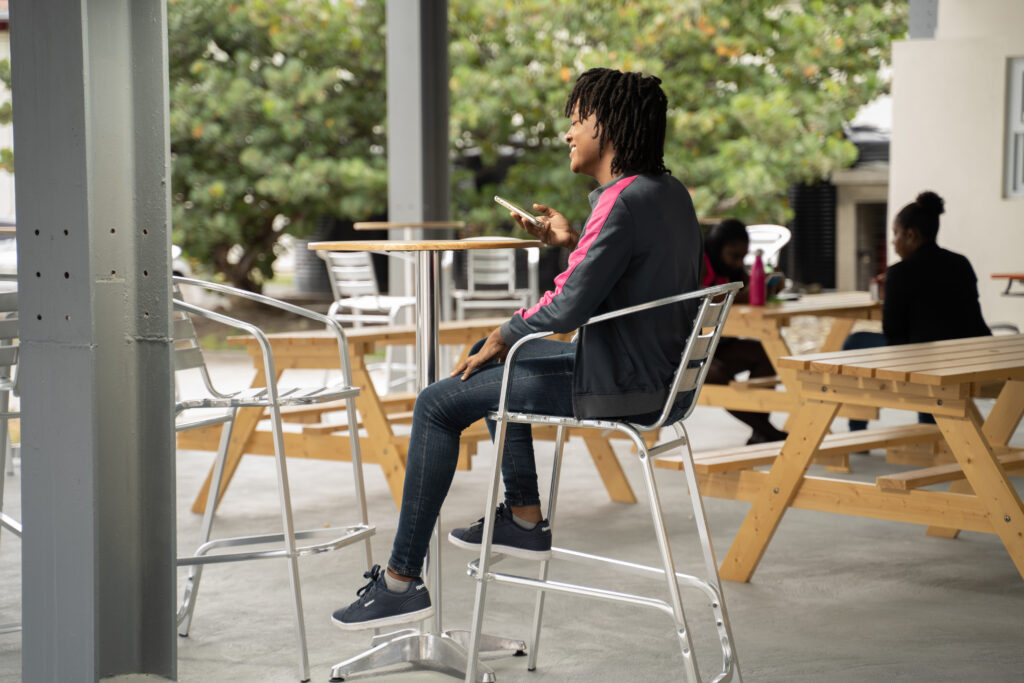 Which shows that contact centers do not need to be purely functional. They should be designed with the employee experience in mind. They should feel inviting, inspiring, and should give employees a sense of pride, which only boosts employee engagement, and therefore, productivity.
The office environment should also reflect a company's culture, its people, its community, and in itel's case, the beautiful natural settings in which its team members are privileged to work, live and play.
Learn more about the business benefits and beauty of itel's diverse regions. Check out our many Locations.
View more
More from the Stories section