Chalmers Stunning Office Design Seeks to Elevate and Inspire

June 3, 2022
Workspaces that transform, elevate and augment the mind, that was the inspiration behind itel's latest unveiling of its new, 90,000 square-foot facility in Kingston, Jamaica. Beyond merely functional, this ultramodern customer experience delivery center sets a new standard for business process outsourcers (BPO) in the region, with a design aesthetic that reflects the ambition, vision and employee-centric culture of a company that is rapidly becoming an influential global player. Blending tech-inspired décor with natural, organic touches, this cutting-edge facility could possibly redefine what a contact center can and should be, as itel seeks to create a unique office design that elevates and inspires.
Modern Office Design Redefines Contact Center Aesthetic
On May 25th, itel celebrated the official opening of its newest customer experience delivery center, located on Chalmers Avenue in Kingston. Construction of the space began in 2020 and despite supply-chain challenges caused by the COVID-19 pandemic, this stunning 90, 000 square-foot facility was completed in only two years, with the capacity to house up to 1,140 employees.
Each of its four floors reflects the natural elements of wood, water, and fire (sun), which are so important to the region. The building's unique design also pays homage to the company's Caribbean roots through organic, nature-inspired touches set within sleek, almost futuristic office spaces reminiscent of Silicon Valley tech houses.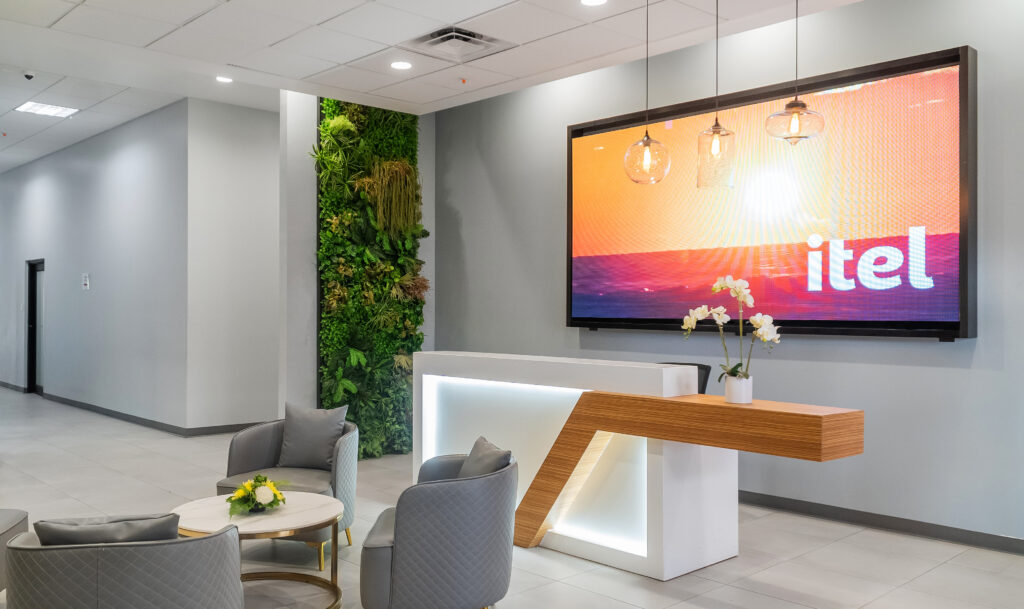 "As you progress through the building, it tells a story," explains Filip (Fil) Radonjic, itel's environmental designer. "It begins in the central lobby, where you encounter this light, airy space with a foliage wall and beautiful images of waves in Jamaica. Then, it ends in HR, where you encounter these stretches of hallways with LED light boxes, and in between them are framed images of these audio wavelength sets that represent different Jamaican sayings." A sly nod to voices and communication, cornerstones of itel's success.
Open areas, soaring ceilings and large banks of windows supply plenty of light that lends the space an uncluttered airiness which makes it feel fresh and modern, a far cry from the dark cavernous buildings that traditionally house contact centers. While on each floor, intimate clusters of furnishings create gathering places for informal meetings with co-workers or clients.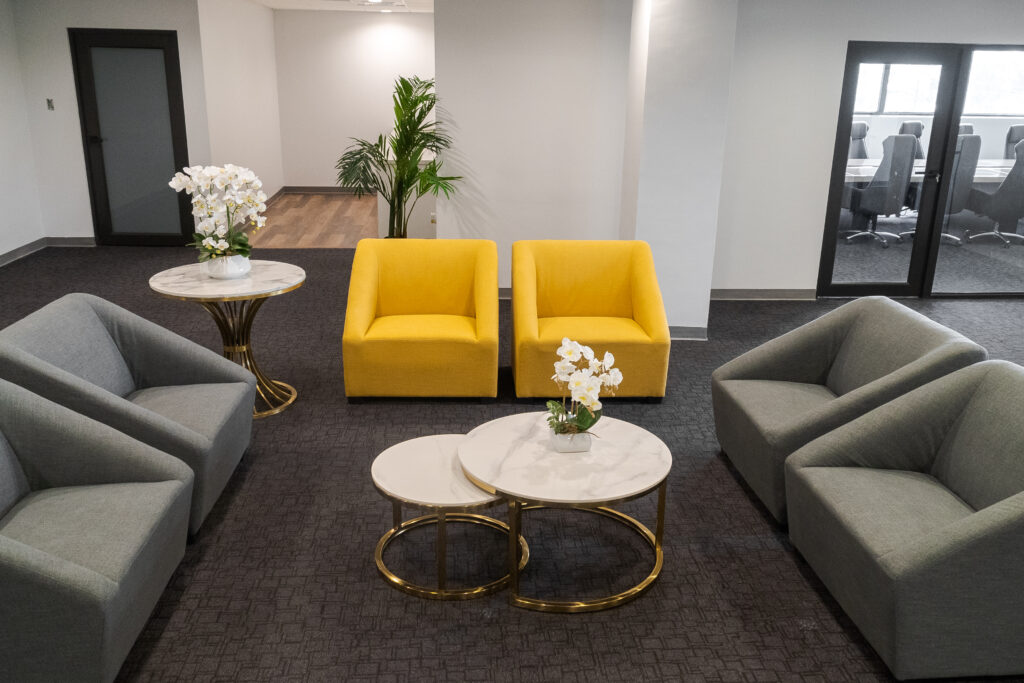 Of course, itel's Caribbean roots were also a key inspiration in Chalmers' unique office design. Everywhere you look, you see energetic pops of color, in the chairs, the lightbox displays, in the colorful murals and decals adorning the walls and original artwork designed to reflect the breathtaking nature outside.
Production areas are spacious to allow plenty of room between agents and configured in small y-shape clusters with high, clear partitions, to keep employees protected, but not isolated, so that collaboration and teamwork are always encouraged. While outside, adjacent conference rooms can be used for various purposes, such as client presentations.
Of note is the captivating pop art mural in the main dining area, made from a series of small dots, called halftone patterns, that when viewed from afar, look like black and white newsprint of crashing waves. While bursts of sunshine yellow, potted palms, and live-edge wooden tables mirror the island's natural beauty.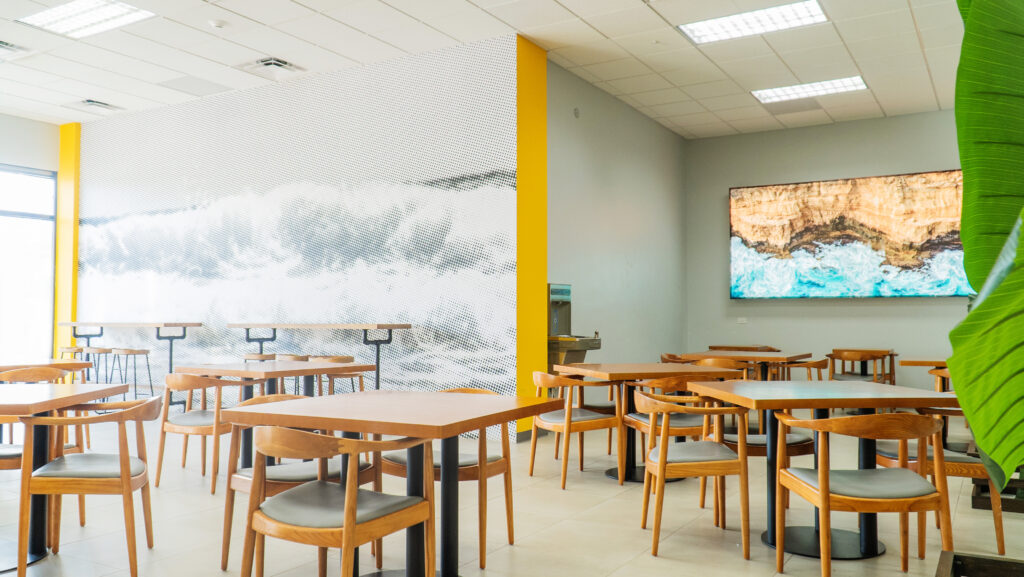 Another distinguishing feature are the park-inspired "chill rooms" where employees can unwind or socialize. Rolling green hills of faux grass, botanical walls, and seating made to resemble natural rock formations lend the space a picnic feel. You almost forget that you're indoors, which was the idea, according to the building's interior designer, Philippa Epstein.
"More than anything, I didn't want people to feel as if they were trapped indoors. We wanted to create these spaces that augment the mind and lift the spirit, where even at midnight, you could sit in one of our park-inspired chill spaces and feel like you were having a picnic outside."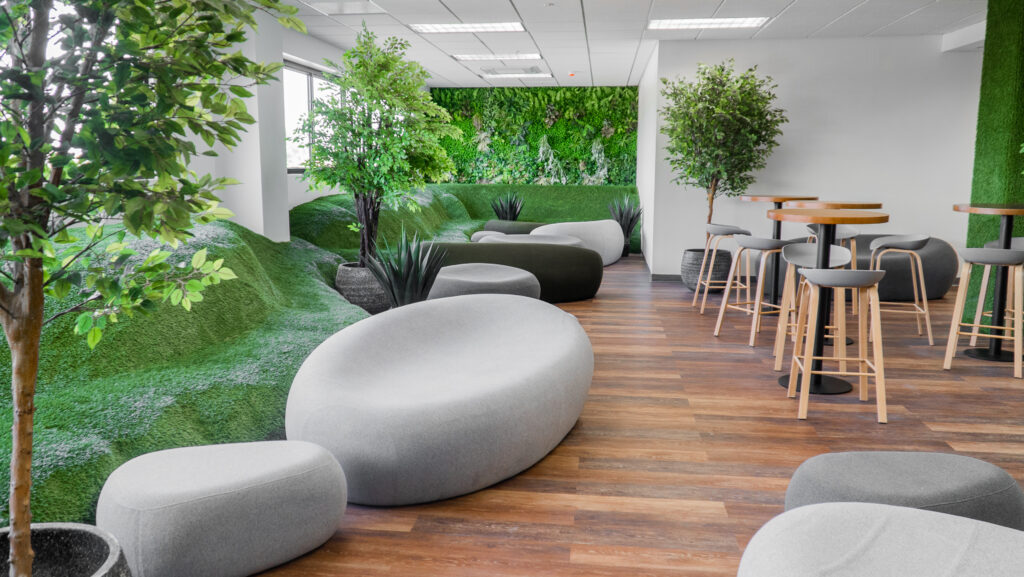 The overall impression as you walk through Chalmers is that of a company that is "always evolving", always growing, and one whose aim is to be a serious contender in the international marketplace. There's a youthful, energetic, and cutting-edge quality that distinguishes it from any other contact center facility on the island, and it speaks to the company's ambition, with plans already under way for a second Chalmers building.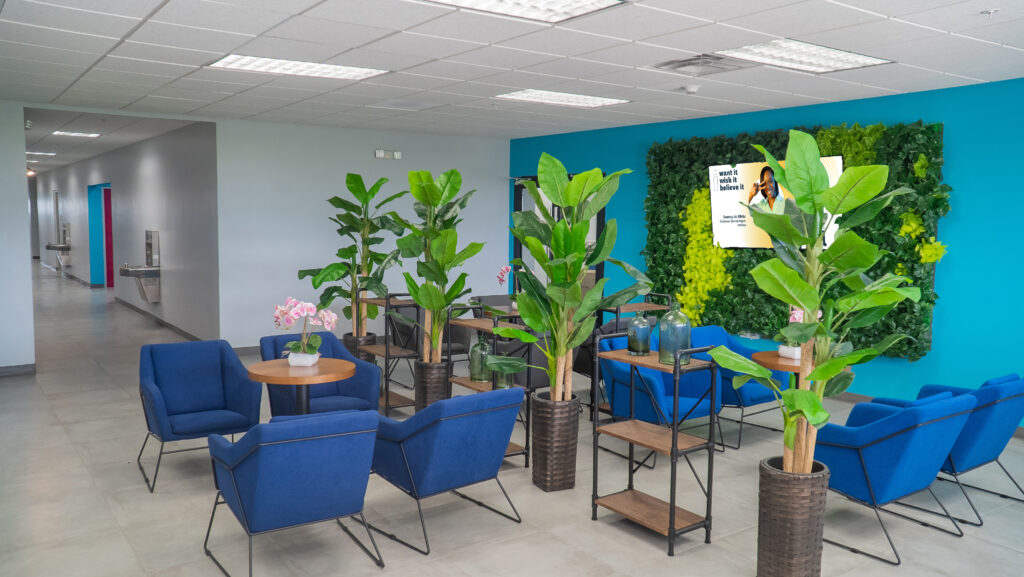 Meet Chalmers' Environmental Designers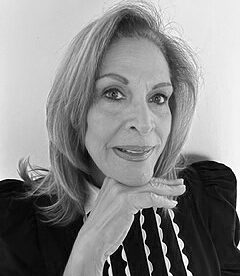 Philippa Epstein – Interior Designer
Always thinking outside the box, Philippa Epstein is the imaginative interior designer who helped shape some of Chalmers' more daring, innovative features.
She also happens to be the mother of Yoni Epstein, itel's Founding Chairman and CEO, making the Chalmers design project truly a family affair.
With an International Fine Arts degree in Interior Design, and apprenticed for 10 years under top Miami designer, Anita Priest, Philippa is best known for her one-of-a-kind commercial interiors that combine various eclectic styles, focusing on fresh, clean lines and touches of bright colors.
Philippa explains that the design process for Chalmers began with the concept of bringing in a distinctly local flavor, something uniquely Caribbean, with hints of sun, surf, and sky.
"We also created these themed 'zones' on each floor," explains Philippa. "Each represents a different form of communication, something so important to itel's purpose and mission. One floor is about music, where you have these gorgeous lightboxes with wire renderings of different musical instruments. Another floor is about speech and shows depictions of wavelengths, the human voice, speaking different Jamaican lingo. And yet another floor has a dedicated section for a top travel and hospitality client, where you see pictures of different travel destinations through 'portholes' or round frames, made to look like airplane windows."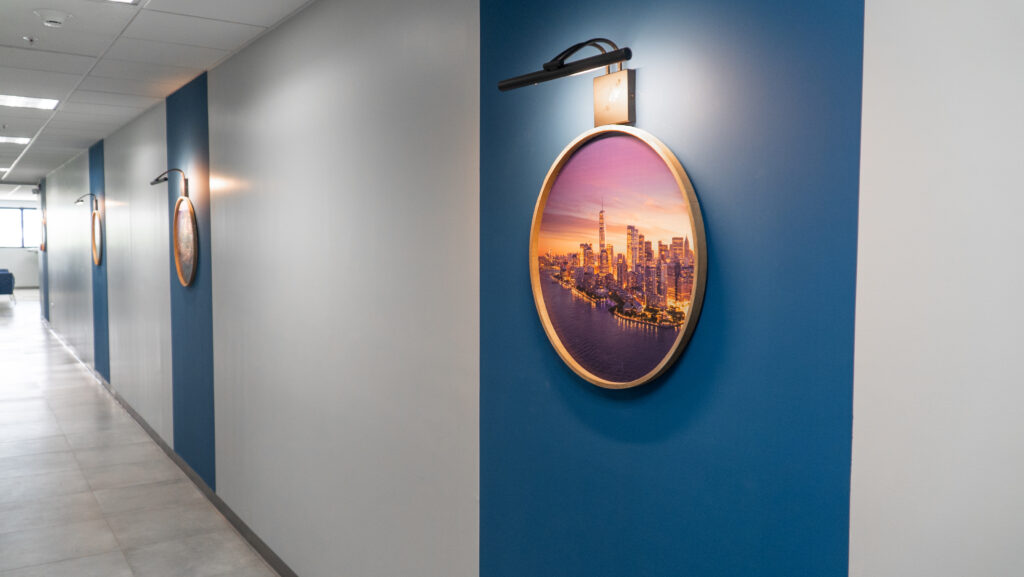 Production was sometimes challenging due to the global pandemic and supply issues. Many items had to be specially ordered from other countries, which sometimes experienced shipping delays, and Philippa notes that there were odd shortages of common remodeling items such as paint.
"But it all came together in the end," she says, adding, "It was definitely a joint effort. Fil, our environmental designer, was working remotely, but provided us with these amazing renderings and these beautiful mood boards, which guided us. I handled the work on-the-ground, arranging all the furnishings and décor elements. It was a learning experience for me. I had done corporate offices, but never one this large. For most of the design team, it was the first time working in a 90,000 square foot space. But it turned out beautifully, and I think we've learned a lot about what works and what doesn't."
Philippa is also known for her work with Sandals Resorts and Coconut Bay Beach Resort in Saint Lucia.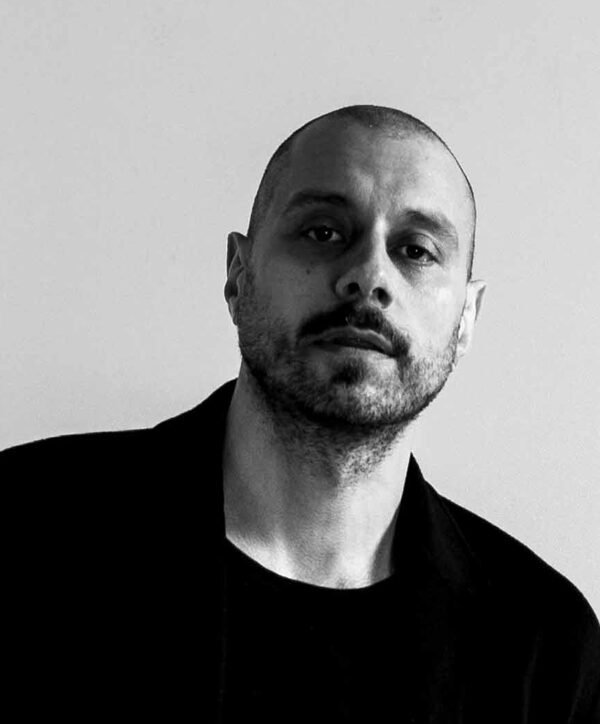 Filip Radonjic - Environmental, Spatial and Graphic Designer
Known for his work with award-winning architectural and design firm, Rockwell Group, and his contribution to the captivating Hudson Yards "The Edge" project in New York City, Filip Radonjic is the inspired Environmental, Spatial & Graphic Designer behind Chalmers' unique concept.
A graduate of Concordia University's Master's Program in Immersive Design, and the Fine Art Academy of Belgrade, Fil specializes in immersive technologies and spatial design and is particularly intrigued by the merging of art and technology.
"Everything I design is supposed to work like a portal, a door, where you can experience something different, something new. With Chalmers, we wanted everyone to feel a type of transformational energy when they walk inside."
Responsible for Chalmers' overall design, Fil wanted to find a way to translate the itel brand into a physical space. But since this wasn't a typical contact center provider, it needed to be unique, like nothing else on the island, and it had to be reflective of itel's people and the Caribbean culture, where the company was born.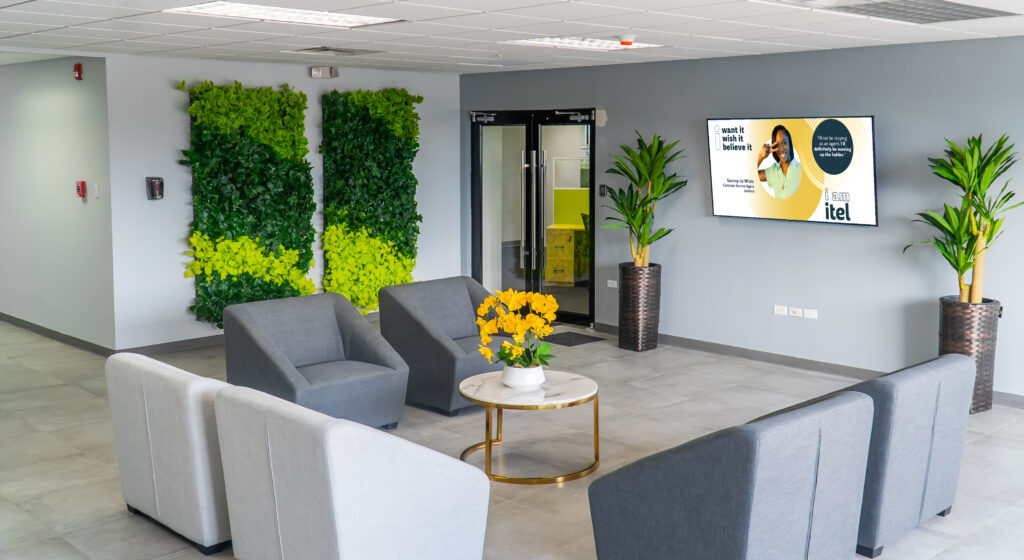 "What was interesting was that, when I started, Chalmers wasn't built yet, so we could be really creative. The question we all asked was how do we make this cool? How do we make these spaces inspirational, transformative? Then we started coming up with these things like emerging technology and nature, and my idea was to use the concept of waves and wavelengths because it's a company based on voices, which is a form of wave."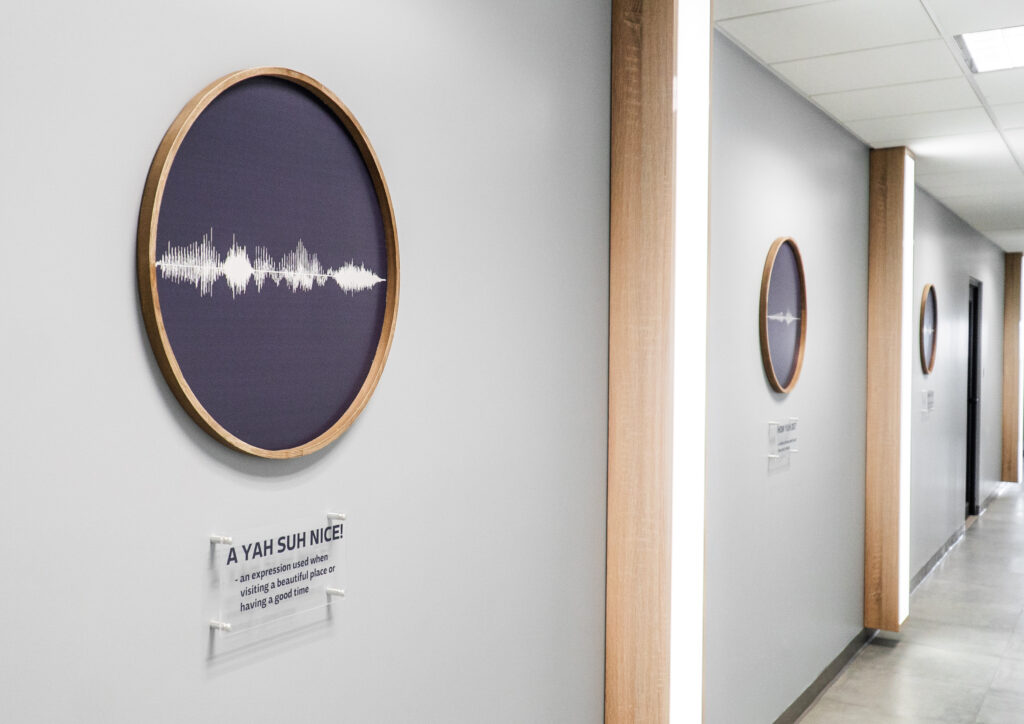 Inspired by Japanese architectural magazines and cutting-edge, immersive designers like Bureau Betak, known for their revolutionary work for fashion events, Fil translated Chalmers' architectural plans into 3D renderings and virtual spaces that Philippa and itel's in-house design team could follow.
Just the design and conceptual process took eight months to complete, and all the initial design work was done remotely, since the world was in COVID-19 lockdowns. "But it was all very organic. We worked via videoconference and set up meetings. Everyone was easy to work with and in the end, I wanted them to be proud of the space they're working in. Because, for them, more than any client I've worked with, employee experience is especially important. The whole goal was to create workspaces that engage people, that make them look forward to coming to work."
Fil is best known for his work on The Edge Building and Nobu downtown in New York, as well as MGM Grand in Macau. He is also currently organizing creative hubs from Brooklyn to Belgrade that will connect different artists and allow them to showcase their work.
itel's In-house Design Team
Warren Buckle, Art Director, Terrence Davis, Multimedia Specialist, and Jaime Grandison, Graphic Designer
We must also include and thank our in-house design team, who designed and crafted many of Chalmers' finishing touches and wall art displays. This trio of innately talented and skilled creatives are not only responsible for bringing the itel brand to life, but also clients' brands, through illustration and graphic design techniques that live on walls and hanging displays throughout the building.
Interested in learning more about itel's evolution and world-class facilities? Check out our recent Press Releases.
View more
More from the Stories section