A Case Study of COVID-19 BPO Business Resilience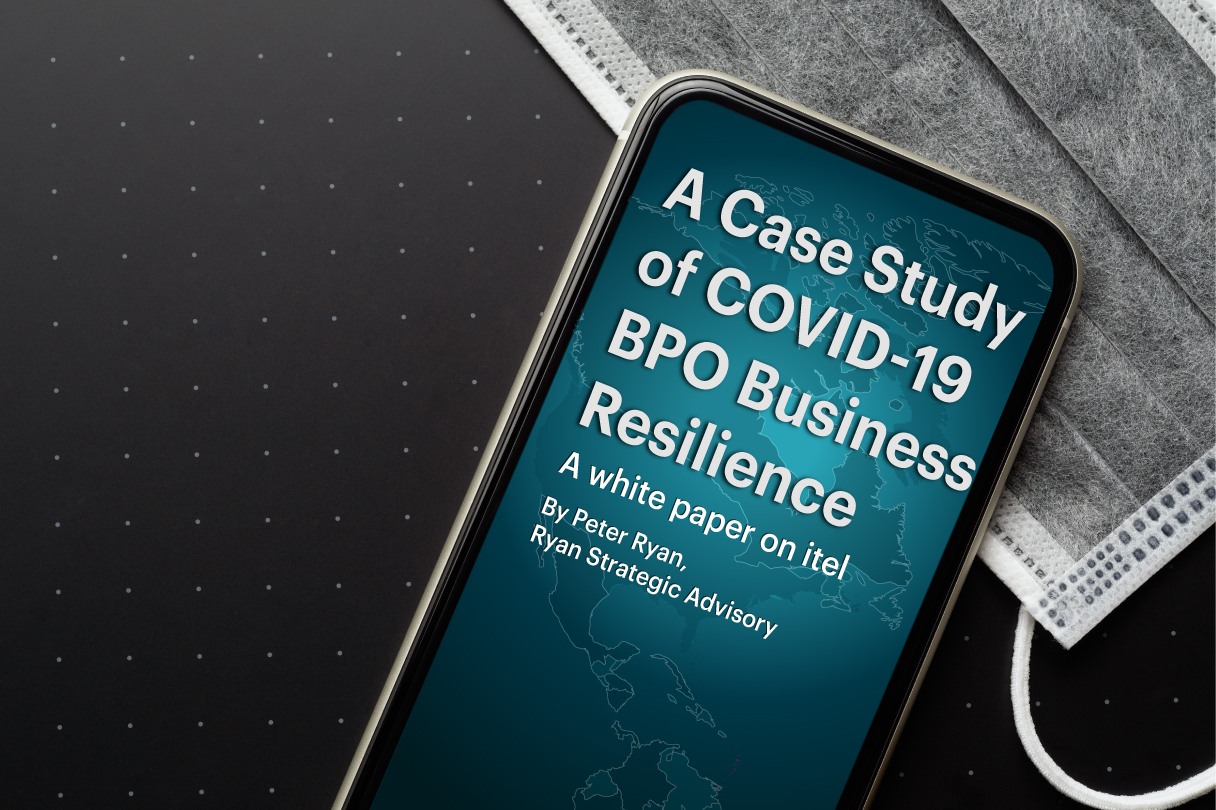 January 27, 2021
A white paper on itel
By Peter Ryan,
Ryan Strategic Advisory
Introduction
COVID-19 has made 2020 challenging for all sectors, including customer experience management. The pandemic that spread early in the year has been one of the most commercially disruptive periods in the modern economy. Consumers are feeling significant pressure as economic uncertainty continues.
Enterprises from across sectors are in turn placing a premium on consistent, quality customer experience management. Thus, having a strong partner that can assist in providing sector-driven CX expertise and that can quickly adapt to changing circumstances is essential for success.
Amid this uncertainty, itel has emerged as one of the go-to companies for enterprises needing a partner that can respond nimbly to rapidly-shifting, industry-specific requirements in these uncertain economic times. As firms across sectors seek to navigate both immediate disruption and the need to transform their CX functions into agile, digitally-driven conduits, itel has established itself as an outsourcer of choice to help achieve these ends.
Coming to grips with the pandemic
Regardless of region, contact centers around the world have had to deal with notable disruption in how consumer queries are supported. From early on in the pandemic, itel understood the need to adapt. In the initial months of the crisis, itel made structural adjustments required to drive seamless delivery for their clients, while making certain that their growing team of agents was as healthy as possible, including:
Rapid conversion to work-at-home delivery - Once it became clear that COVID-19 was not an isolated blip and that the virus was easily transmitted, itel moved quickly to prepare for virtual working across its sites in Jamaica, the Bahamas and Mexico. In short order, governments in these countries all considered widescale shutdowns and implemented strict social distancing protocols for commercial operations, greatly impacting the contact center sector.
itel was fortunate that it already had the workplace processes and the technology backbone to accommodate sizable virtual operations, due to its significant work-at-home footprint. With this in mind, itel shifted 80% of its onsite agents to work from their residences. One near term challenge was ensuring that team members had the equipment required to derive the best possible outcomes for consumers. For those agents that had their own computers at home, once the suitability of their technology was confirmed, these team members could log into the itel gateway using a secure desktop. This allowed each of these agents to perform all CX functions robustly, and in a secure environment.
For those that were without their own technology at home, itel was swift to supply newly-remote agents with CX-specialized computers equipped with the platforms needed to deliver robust interactions in the most secure manner possible. Using these devices, agents would connect with the itel systems using a VPN, again to ensure maximum information security.
Successfully managing a diverse workforce – if there is one hallmark of itel, it is that the company is committed to the development a diverse, youthful and energetic team of front-line staff. Thus, moving 4-in-5 of these team members to work-from-home was full of uncertainties. The first couple of weeks involved some expected hiccups as staff adapted to remote operations. However, it should not be forgotten that itel is a legacy remote CX provider. Thus, with its strong background in home-based delivery coupled with its flexibility of an emerging, agile outsourcer, itelbpo was able to make this transition as seamless as possible.
One of the ways that this was accomplished was via ongoing virtual communication between supervisors and the front-line team members. By using video, voice and text-based platforms that were straightforward to implement and easy to interact with, team leaders and agents have been able to achieve virtual-working results on a par with those associated with in-facility delivery. This collaboration has ensured that operational quality was maintained to the highest standard.
Ensuring a safe and healthy workplace – despite itel's rapid shift of agents toward work-from-home, the operator still had to ensure the safety and health of the agents who remained working onsite. itel quickly and vigorously adopted key COVID-19 protocols designed to keep team members safe and secure. These included installing handwashing stations at all building entrances and requiring anyone entering the company's buildings to make use of them. In addition, it introduced pervasive hand sanitizer dispensers throughout contact center facilities, spaced workstations 6-feet apart, performed a deep clean of air filters daily, increased carpet cleaning to weekly and high-frequency wipe downs, among other things. Additional nursing staff were also brought into facilities to do temperature checks of team members and monitor health symptoms with a ready plan of action if anyone displayed flu-like symptoms.
Prioritizing COVID-19 prevention education – itel understood that every entity of the organization needed to do its utmost to inform team members on how to stop the pandemic's spread. Thus, it undertook a 6-point plan designed to prioritize both the mental and physical health of its team. To that end, the company circulated protocols to agents via company intranet and signage around facilities concerning how best to meet and greet others while limiting tactile contact, the need to wear masks, and even how to make one's own hand sanitizer. Transparency was key in letting team members know where the company was taking action. To this end, they organized a virtual "Town Hall" where employees could ask any question that they wanted answered, as well as express their feelings and make suggestions. By answering questions in a frank manner and validating the agents concerns, itel was able to balance protecting both and lives and livelihoods reinforcing the positive work agents continue to provide in the BPO space, and to help the team to maintain focus on doing the best for clients and consumers.
Driving client ramp-ups – itel's efforts at keeping the focus on business continuity was a success. In fact, it was noted that a number of existing clients ramped up their deployments with itel during the pandemic period. In certain cases, this was due to the ability of itel to help these enterprises adapt quickly to vertically or digitally-driven CX needs. In others, it was due to itel's capability to help diversify their clients' delivery footprints away from heavy deployments in overseas markets that were both oversaturated and difficult to access. But, regardless of reason, what is clear is that itel's agile nature helped it respond to its client's needs swiftly with minimal disruption to end-user interaction quality.
Laying the Groundwork for Business Continuity
There is no getting around the fact that despite the events of the past several months, businesses must move forward. Certainly, this is the case in CX management, and notwithstanding the challenges of 2020, itel has embraced a number of opportunities that will be pivotal in its ongoing growth as one of the leading homegrown nearshore outsourcers. These initiatives will ensure security, risk-diversification and strong delivery options for current and prospective itel clients.
New site in Saint Lucia – itel has prioritized leading Saint Lucia as a burgeoning delivery point for customer experience management. With so many enterprise contact center decisionmakers seeking a CX partner with a diversified footprint for service delivery, itel felt that expanding into this territory made strategic sense. Saint Lucia is noted for a stable operating environment, a pro-business regulatory regime, and a talented workforce from which to draw agents.
Originally itel's leadership had planned to open a delivery operation in the country in early 2020 with a target of 250 employees. While the opening was slowed due to the pandemic, itel remained determined to ensure that the development continued and quickly realized that Saint Lucia offered even greater untapped potential. Site operations commenced at the mid-point of 2020 with 30 team members, and at the end of 2020, the site employs approximately 400 people. They are expanding the facility to over 50,000 square feet, with a target of 750 employees by the end of Q1 2021. itel is already seen as a local employer of choice in Saint Lucia, giving the company a significant recruitment advantage in that market.
Expansion into the Canadian work-from-home market – itel has been among the most enthusiastic providers of the home-based agent model in the Americas. Based around client needs, it seized the opportunity to expand its virtual remit into Canada. As one of the most developed consumer markets in the world, Canada's enterprises are showing increased need for work-from-home options. itel is meeting this demand, by supplying a remote, bilingual virtual workforce that will expand in 2021.
Conclusions
Tough times test both executives and the organizations that they lead. Over the past several months, the limits of the CX ecosystem have been exposed, with enterprises eager to find a BPO partner that is able to ensure stable delivery and business continuity in order to cement end-user loyalty. itel has worked diligently to achieve the best for its clients by shifting its delivery model balance even while keeping a laser focus on employee health. Its efforts to expand in the face of a challenging operational environment has been front and center, expanding into new territories that offer risk diversification and quality. This has undoubtedly been a case study in successful CX resilience.
View more
More from the Case Studies section